Case Studies
Machine Conversion - Salad Factory
Scope of Work: To design, manufacture & supply a set of change part tooling for an existing filling & closing machine for a European Salad Factory.
In addition to size change part tooling for 200 g square coleslaw pots the customer required pre-cut seals to be applied and sealed to the pots. The change part tooling, the Seal Dispense, and Heat Seal Assemblies were designed from scratch by Aegir Engineering and fitted onto the existing filling & closing machine. The machine was serviced and fitted with a condition monitoring system at the customers' request.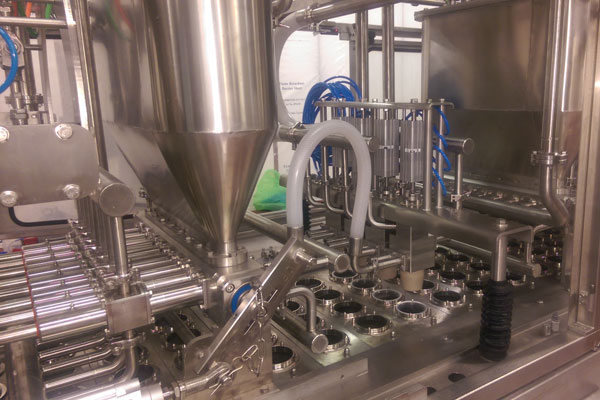 Multi-flavoured Chocolate Mousse
Scope of Work: To design, manufacture, install & commission a 16 head filling system for multi-flavoured chocolate mousse for a leading UK desserts manufacturer.
A 16 head depositing system for 150 g pots of multi-flavoured chocolate mousse incorporating Clean In Place (CIP) was designed by Aegir Engineering in-house. The depositing system was installed and commissioned by Aegir Engineering together with stand-alone PLC and software modifications to the existing machine.